** 2019 BIKER RALLY EVENTS AND LINKS **
Maggie Valley, North Carolina is home to many great biker rallies and events throughout the year. The following are the upcoming BIKER EVENTS for 2019 at the Maggie Valley Fairgrounds. Got a rally or event you would like to see listed here? Contact us now to send us the link! Thank you.
April 26-28 25th Annual Southeastern Mini Trucking Nationals www.minitruckinnats.com

May 17-18 ICONS OF HOTRODDING FESTIVAL

www.kustomkempsofamerica.com

June 28 - June 30

THUNDER IN THE SMOKIES SUMMER BIKE RALLY

www.thunderinthesmokies.com

July 26- 27 HILLBILLY JAM Music Festival. 10 am -10 pm www.thehillbillyjam.com

Sept. 6-8 THUNDER IN THE SMOKIES FALL BIKE RALLY

www.thunderinthesmokies.com

Oct 25- 27 Smokin Rods In The Smokies Vintage Street Rodders event. www.vsra-usa.com
Stop by

Maggie Valley Biker Wear

when your in town...
We have ample parking for your
motorcycles and trailers!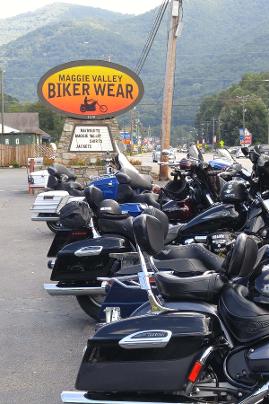 Maggie Valley Biker Wear
3578 Soco Road
Maggie Valley, North Carolina 28751
Copyright 2018 Maggie Valley Biker Wear LLC